Hannah here, again, for another post on my scoliosis.
So, I went to the Doctor's the other day, and hear me out:
surgery
has always been a
last resort.
When I went, I heard the news I never wanted to hear.
I need surgery.
*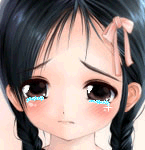 On October 18th I will go in for a spinal surgery, and they will put metal rods in to straighten my spine. My bottom curve has increased to 54 degrees.
After my surgery I'll be on bed rest and in the hospital for a while. So, little to no blog posts. And I'll have to skip trick-or-treat. :( Oh well, maybe if I can, I'll still dress up like River Song and pass out candy with my Grandpa.
My friends have all been really supportive, those who know. So, yeah. tough stuff. My parents and siblings were all really upset.
I'm trying to act like it's not a big deal.
The thing is, they're risking hurting my spinal cord- ya know, what lets you walk, and stuff? I'm not scared of not being able to walk, I'm scared of not being able to dance.
But in order to dance you have to walk.
On that note,
~Hannah Song
* image by Myura on glitter graphics